"

We have had a wonderful response from women, companies and men

…

it is heartening when market leading organisations keep asking "what can we do to help?" They are really starting to understand the need to encourage more women into their workplace, but clearly are not finding it easy. Singularly

,

 organisations cannot solve this industry problem, but collectively we can make a difference."

 Angela Tatlis, 

our 

founding Chair in 2012

 speaking about the response from the industry 

in establishing

 what is now NAWO.

 
It was Angela Tatlis and her direct experience of being one of the few female leaders in operations that triggered the need create a network to support and connect women in similar situations.   The catalyst was when Angela was invited to a lunch by our other key founder Lisa Eccleston of Orora.  Lisa invited 10 customers to send one of their executive women to discuss the experiences of women in operational companies. Only three of those organisations had an executive woman, one of whom was Angela. The invitation from Lisa was the realisation that women were facing some very challenging issues trying to develop or even maintain their careers was Angela's call to action to make change. 
So Angela organised a networking event for executive women working predominantly in manufacturing companies. Fifty women attended the event, which was hosted by Mondelez in one of their training rooms. "The buzz of excitement in the room that followed the women to the carpark as they continued their conversations…demonstrated that the need (for connection) was real." 
Women in Manufacturing was born and led by Angela Tatlis and May Lee, who offered a networking event for general manager and director level women working primarily in manufacturing companies. Following the first event, other companies volunteered to host networking sessions inviting both their women and their senior executives to attend and speak, establishing what was to become NAWO's successful event format. 
In 2011, Orora was again the driver of change, then CEO Nigel Garrard donated $5000 for the group to create a website. The group was subsequently formalised as a not-for-profit association to enable funding, and aspirationally renamed the National Association of Women in Operations – NAWO.   
Here is our first logo:

NAWO's founding Board was established with a deliberate gender balance, consisting of nine senior operational leaders including Angela Tatlis (Chair), Neil Fleming (Treasurer), May Lee (Secretary and Public Officer), Lis Mannes, Tim Hart, Rebecca Roberts, Chris Lokum, Troy Webb and Megan McCracken. 
When Lis Mannes moved from Victoria to Sydney, she launched our NSW chapter; and in 2013 Anna Dartnell and Megan McCracken both relocated to Perth and launched NAWO's Perth Chapter. Soon after NAWO's first part-time paid contractors were employed. 
As our members grew, so did we.  Between 2012 – 2014 we launched our flagship mentoring program, Mentoring Circles and events became bigger and more structured around the creation of the 'National Leadership Development Priorities' now known as our Learning Priorities.  We also expanded once again with the Qld Chapter starting up in 2014. 
Soon after mentoring commenced we introduced TEXL – Transition to Executive Leadership Program – the first of NAWO's growing offering of discounted members-only Professional Development Programs, which like mentoring is a key aspect of our membership offering today. 
In 2015 Louise Weine, an experienced operational leader, joined as National Director to take NAWO to the next level and grow the association's impact on the pipeline of female talent in operations. NAWO was then relaunched and rebranded to reflect a more professional corporate identity.  The next iteration of our website rolled out and we ramped up our digital communication and established a social media presence. 
Our second logo: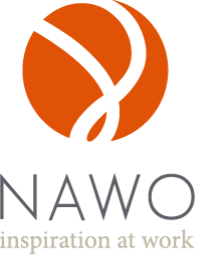 Our strategy grew and expanded to not only supporting individual women but also supporting organisations to support their women. The first Industry Solutions event was held in 2015, for executive leaders to discuss high level operational diversity issues and develop practical solutions. The following year in 2016, we launched the SA Chapter.  
Angela stepped down as NAWO Chair in 2017 and was replaced by Megan McCracken. Under Megan and Louise's leadership, 2017 was a year of many milestones – our regional presence was established with the NSW Riverina and Victorian Goulburn Valley Chapters, and the launch of NAWO's regional delivery program, including the NAWO BHP Pilbara Roadshow – delivering career development events for the Port Hedland and Newman communities in WA's Pilbara region. 
'Project i', was established, with a legal Equal Opportunity exemption obtained for the project in order to offer project based internships in our member companies solely for graduate women in partnership with Path4Graduates. 
Our Industry Solutions events evolved in 2018.  Designed for select groups of operational diversity change agents to inspire the co-creation of pragmatic actions in chosen topic areas, Knowledge Share Forums in began 2018, and the following year this concept reached senior leaders invested in turning conversation into action with our Member Executive Forums.  
From 2019 we began partnering with key industry associations to leverage mutual benefit for members. We also created our Nine Levers for Gender Balance – nine strategy touchpoints to provide a clear path forward for member organisations focused on making gender diversity a reality.  
2020 was the year of digital innovation for NAWO.  As the realities of the global pandemic hit us, in just five days we transitioned our calendar of events and professional development programs to digital delivery, and we continue to offer outstanding webinars with our members and State Committees, reaching a national audience not possible via in person State based events.   
This year we are proud to establish the NAWO Advisory Committee – a group of volunteers representing different intersectionalies, all bringing their lived experience and insights to challenge and advise our strategy and ensure NAWO stays relevant and supportive of all women, and anyone identifying as a woman in operations.   
Soon after the launch of our website we will farewell the inimitable Megan McCracken as NAWO's second Chair.  Megan has given NAWO her energy, ideas, intellect, passion and time on our Board for eight years – four terms – two of which have been as Chair.  
"Being part of NAWO has been a bright spot in our continued slow progress towards gender equality. For 10 years NAWO has been a welcoming place to explore how women can forge a meaningful career in organisations, and occupations, more traditionally held by men.  I am proud of being part of such a purpose driven enterprise that reaches right to where our members work and has had a huge impact on so many." Megan McCracken, current Chair.
Our new logo:

It is a decade of milestones to celebrate, that track the development of an organisation still clearly focused on what it set out to achieve: to see gender diversity valued and balanced at every level in operations.   We have so many wonderful volunteers, members and supporters who have been and still are key to bringing NAWO along its journey.  Thank you and happy 10th anniversary to us all!