Keiren is now a transmission services manager and loves her work, but her reflections on the bullying that almost thwarted her career before it had even begun are not pleasant.
Inspired by a friend who had left school in Year 10 to commence an apprenticeship, Keiren embarked on an apprenticeship as an electrical technician, with high hopes and a keen willingness to learn.
"I liked the idea of being paid to learn, doing something different and working outside in the field. There's something really satisfying about doing a hard day's work and building something tangible.
And Keiren did work really hard. Strangely enough, this was almost her downfall.
"I was the only girl and I was smart. They expected me to fail. When I started going really well, they got jealous."
'They' were the other apprentices – all young men – in her class. Due to the structure of the apprenticeship, she was with the same group for every aspect of her apprenticeship, both at TAFE and in the workplace. So there was no escape from the bullying that was the price she was paying for her success.
"I was born and bred in the country. When I quit the apprenticeship, the head of training asked me if it was the city or the apprenticeship that I hated. It was the city."
Recognising her ability, the training manager helped Keiren transfer to the country and secure a position with a new employer – Country Energy (now Essential Energy) – to commence the second year of her apprenticeship.
It was so much better! We did a lot more work in the field and I was working with an older team and with another apprentice and we got on really well."
Following her apprenticeship, Keiren progressed to a supervisory role and was then offered the opportunity to take on her manager's role when she returned from maternity leave after having her first child.
Her next promotion, to her current operational role as Engineering and Technical Manager – Transmission Services, was offered to her on the day she returned from maternity leave following the birth of her second child.
"I've never felt that taking maternity leave has held me back. I always felt my company and my managers were itching to get me back!"
As any parent knows, however, returning from maternity leave is not without its challenges. Especially if you are a mother who is still breastfeeding.
"While my managers were tremendously supportive, 'pumping in the field' (using a breast pump to express milk to feed her baby) did lead to some interesting, if somewhat awkward, conversations!"
Keiren credits her success to a supportive workplace and mentors coupled with her willingness to ask questions.
"I have often sought help more than my male colleagues. I haven't been afraid to ask for help and build my network."
Keiren has now been with Essential Energy for 12 years. Despite her positive experiences, she remained the only operational woman within Essential Energy's Transmission Services department for the first 10 years.
In 2018, there was a dramatic shift with Essential Energy adopting a more proactive approach to improving the level of gender diversity.
"In our department, 11 of the 13 new apprenticeships were filled by women following an affirmative action initiative! The attitude towards female apprentices has changed, especially in the interview process."
Keiren describes how detailed practical assessments are giving female applicants a fairer opportunity and are helping to overcome unconscious bias. They are also working to link younger women with more senior mentors within the organisation.
Another strategy adopted by Essential Energy was becoming a NAWO Corporate Member and Keiren was proud to be involved in launching the membership within the business.
"This partnership demonstrates very clearly that Essential Energy is serious about gender diversity."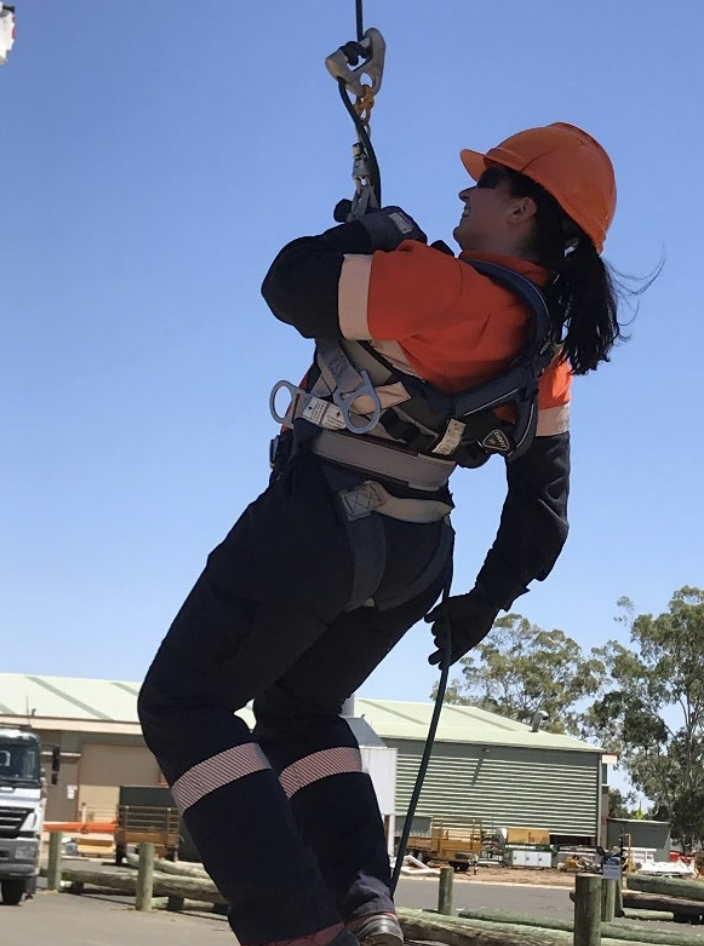 3 Questions
1.What role have mentors (formal and/or informal) played in your career journey?
My career has been shaped by male champions. Every step of the way – whenever it felt too much and I felt I couldn't go on, my managers have been the ones that have really encouraged me.
2. What advice do you have for operational businesses seeking to attract and retain more women?
It's more than just saying you want to do it – it has to be entrenched in the whole business. You need to have a female toilet and a female uniform. The reality is that mothers/women tend to be the lead parent, so businesses must have flexible work arrangements. Essential Energy recently became a NAWO member and I was involved in launching the membership within the company. The partnership demonstrates that Essential Energy is serious and the NAWO events are great for providing tools that we need.
3. What advice would you give women embarking on a career in operations?
If you are thinking about a trade – go for it! The world will be your oyster. Learn anything you can from anyone – it doesn't matter if you re-learn from different people, just absorb it all.