Orica leadership proactively supports diversity initiatives. Diversity and inclusion (D&I) metrics are measured and included for discussion at all monthly regional leadership team meetings, highlighting which business units are achieving success in terms of female hires and why.
According to Pauline Sullivan, Senior Manager – Organisation Capability (APA), one of the key challenges Orica faces as a global entity is implementing standardised diversity and inclusion strategies across the organisation.
"Different countries have different attitudes towards part time, contract and flexible work practices, so Orica needs to have flexibility in terms of how strategies are implemented and adapted to these differing attitudes and cultural norms," Pauline explains.
"Australians are generally open to job sharing, contract work and flexible working arrangements, whereas parttime and contract roles are considered undesirable in many Asian countries."
Part of Orica's D&I strategy is to focus on early career recruitment of women to build the talent pool. However, when it comes to diversity recruitment practices, attitudes and strategies, these can also vary dramatically within each of Orica's nation groups.
Acting upon this knowledge and embedding Rachael Fitzgerald of Stellar Recruitment in Orica has been a game changing strategy.
Focussing on recruitment of 'green' applicants, primarily into traineeships, across the organisation nationally, Rachael confirms the benefit of this approach is that "targeted recruitment drives to increase diversity can be developed and implemented across the board rather than being site/department specific, amplifying outcomes".
"Focusing on greater diversity at the entry level has the potential to generate a larger pool of female candidates for senior positions in the future, subject to adequate attention to retention of females in the early stages of their careers," she continues.
Mining is still largely considered to be a 'male' industry and Pauline and Rachael share that a lot of work has been, and still needs to be, done to shift this mindset – internally and externally.
"A key to improving diversity outcomes is re-education, such as highlighting when managers are looking for women with traditionally 'male' personality traits," Rachael explains.
"We found that Orica's focus on the numeric value of psychometric testing was skewed towards male candidates because one of the key attributes that was being assessed was mechanical aptitude."
"They have now challenged that thought process to look at the person rather than just their 'score', and to implement suitable training to upskill female trainees with the required skills in terms of mechanics."
Likewise, Orica is now using a 'gender decoder' across all job adverts to ensure they are gender neutral. The gender-neutral ads then become the standard templates for future job ads.
One of the most successful recruitment activities has been running female-only screening days for entry level jobs.
Rachael describes how "an assessment centre is set up in the chosen location for a day and potential female candidates and a group of Orica's hiring managers are invited to attend."
"They then spend the day interacting with each other, so hiring managers have the opportunity to get to know the individuals. Recruitment can then be based on the person having the right 'fit' as opposed to numbers and qualifications."
"Shifting leadership mindset re skills needed for the job is key," Pauline agrees
Despite good intentions, accessing graduates is an issue.
"Orica is aiming for a gender recruitment ratio of 50/50 for graduates, but the level of competition for graduates makes this is a challenge," Pauline concedes
Women constituted approximately 15% of all Orica placements in Australia over the past year and this has been growing steadily over recent years. The graduate intake for FY2019 was 50% female. A significant proportion of these placements have been into non-traditional roles.
Pauline advocates the proactive strategies that are now standard recruitment practice at Orica:
Looking internally for good candidates first.
Ensuring every new position shortlist has a good % of diverse candidates.
Looking for areas to innovate in diversity recruitment.
Understanding regional challenges.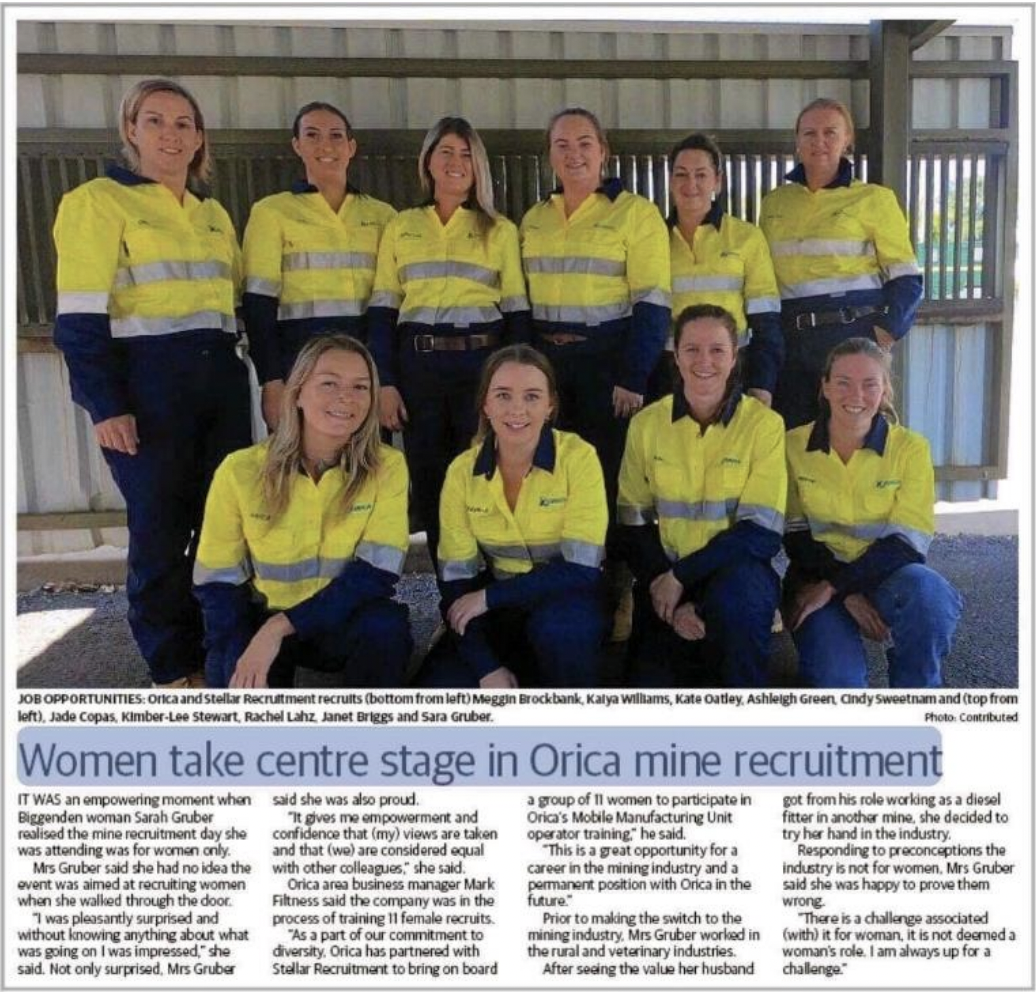 With the aim of boosting retention, Orica has moved beyond mandated minimum requirements for family leave, offering 12 weeks of paid family leave which can also be paid over a 24-week period. Nonprimary carers are offered 8 weeks of unpaid leave in the first year of having or adopting a child.
In summary, Rachael emphasizes: "while recruitment is important, it is just one part of the equation. There must also be a focus on retaining women in non-traditional roles and male dominated operations".
Pauline concurs: "the most important thing to remember is that the job is never done! It requires ongoing review and continually looking for different approaches to improving diversity. Sometimes you just reach a point of headscratching as to what else you can do! Leadership support for new ideas is critical".